Turns your Tripp Trapp® Chair into a comfy high chair
Even your youngest child can join you at the family table using the Tripp Trapp® Baby Set. While your baby is learning to sit, the Tripp Trapp® Baby Set gives your little one side and back support that´s comfortable. It provides your child freedom of movement and
helps teach them the important skill of sitting. When your child can confidently climb in and out of their chair on their own, you can remove the Baby Set. This gives them greater freedom of movement and more independence.
Provides your child freedom of movement but does not prevent them from crawling out.​
User friendly – easy for parents to place their child in and out of.​
Compatible with Tripp Trapp models after May 2006.
Please pay close attention to the compatibility of separate accessories.​
FEATURES & BENEFITS
Brings your child to the table
At around six to nine months, your little one will be able to begin sitting upright unaided. This is when you can use the baby set to bring them to the table to join the rest of the family where they can learn and develop alongside you.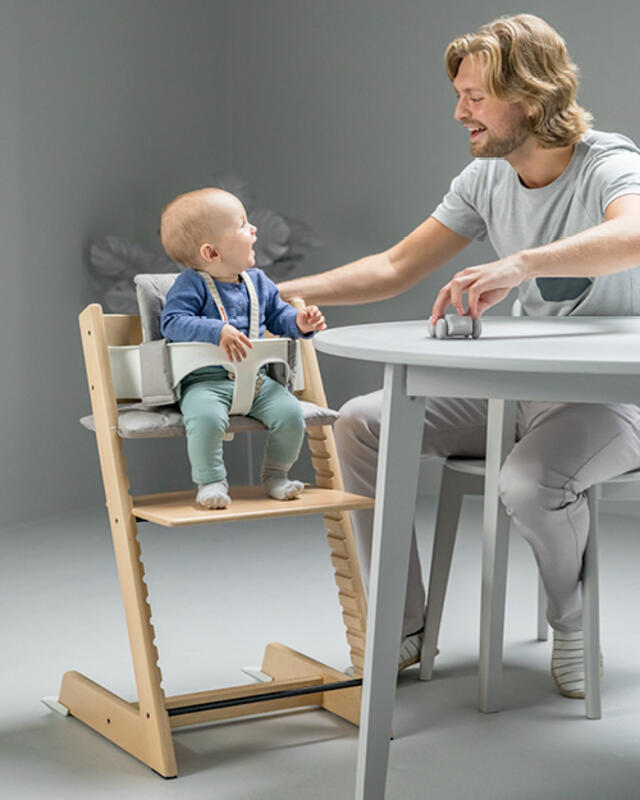 Supportive
The seating rail and hi-back keep your baby safe and help them learn the important skill of sitting. With gentle back & side support and an adjustable footrest your little one will be comfy while still able to enjoy freedom of movement.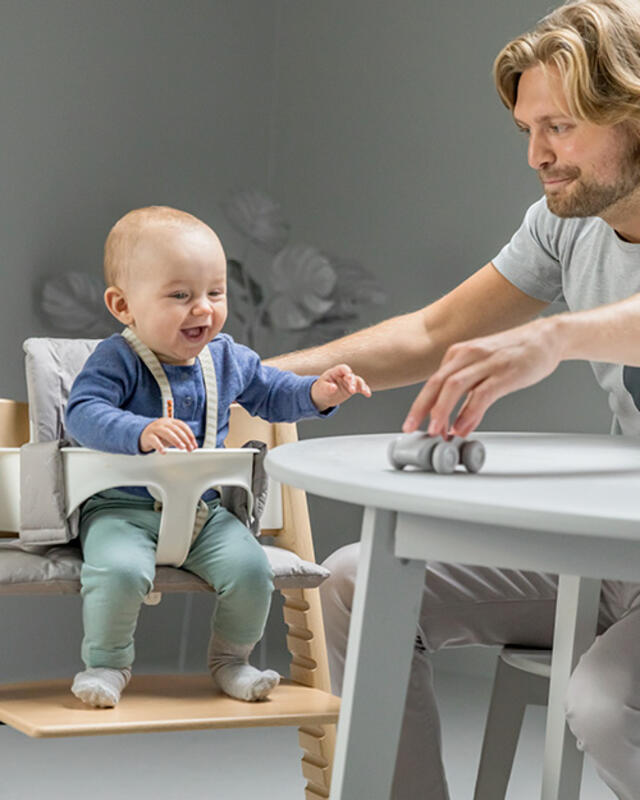 No tool attachment
Tripp Trapp® Baby Set easily attaches directly to the Tripp Trapp® chair and is made of environmentally friendly plastic material that is recyclable and safe for children. No tools are needed.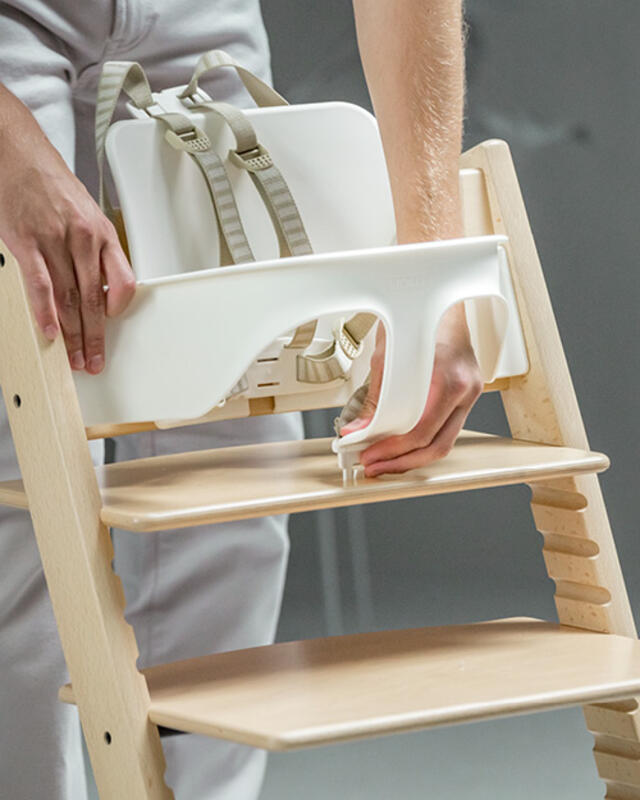 5-point harness
Our easy to adjust, easy to use harness has been designed with five points. This means that your child will be comfortable as they grow. It's also machine washable making it easy to clean.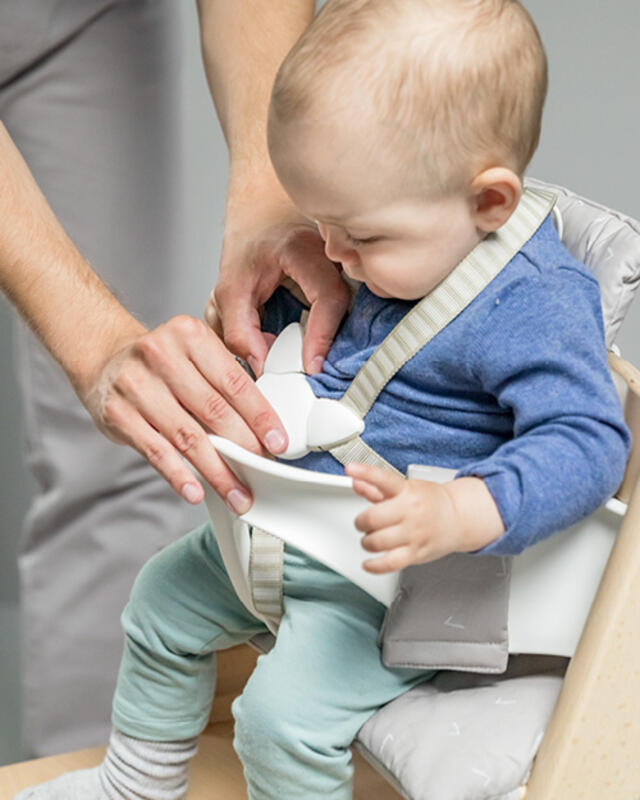 Soft to the touch
Versatile and functional, Tripp Trapp® Cushions add both softness and personality. Available in a wide range of colors and patterns, selected designs are offered in a coated version for easy wipe. We even offer the Nordic Grey Cushion Collection which is made with sustainability in mind.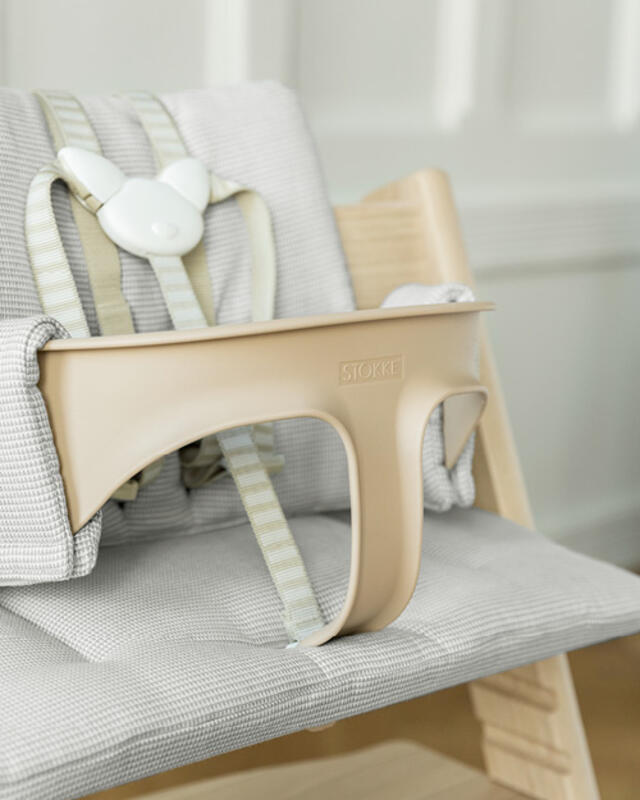 Product Specifications:
Weight (kg/lbs):
0.628 / 1.4
Suitable for age:
from 6 (months)
WHAT'S INCLUDED:
Baby Set Backrest
Baby Set Rail
Tripp Trapp® Harness 5 point
Extended Gliders